Site of The Week

The Ultimate Michael Jackson Fan Page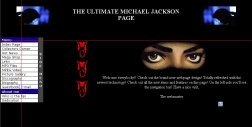 Uses some awesome Flash technology! Also has a very good layout with plenty of information and multimedia to view:
http://members.tripod.lycos.nl/VerloopA/1michael.htm
(On a side note if page does not load please remove the 1michael.htm from the URL)


Do you feel your site can be Site Of The Week? Then click here for details.